TEDxDelft Salon 2013 | Art, chaos and progress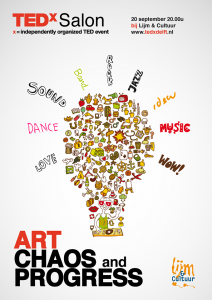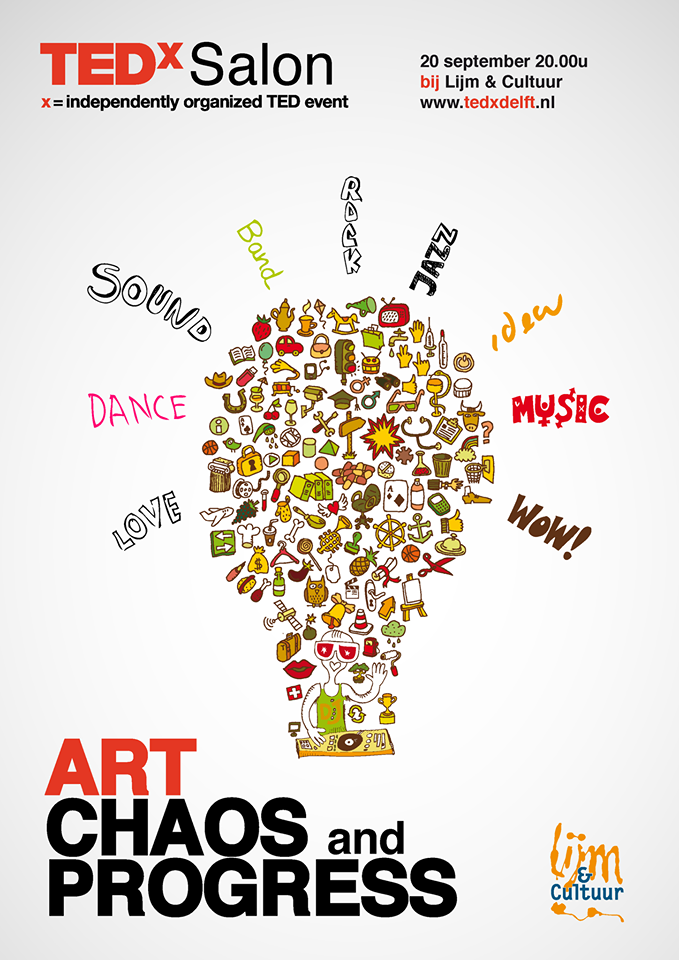 A new TEDxDelft event: a TEDxSalon with the value of art and culture as main theme and with the opportunity to earn a place in the greater TEDxDelft.
Instead of a TEDxDelft Award audition we have an exciting new cultural event: the TEDxDelftSalon "Art Choas and Progress", in coorporation with "Lijm&Cultuur" and "Chaos aan de Schie".
Several speakers share their idea's on the value and impact of art, among which theatre maker Rieks Swarte, actor and philisopher Bo Tarenskeen, poet and politician Ramona Maramis, branding specialist Remy Harrewijn and more.
On Friday 20 September 2013 at 20:00 we will celebrate culture at 'Lijm en Cultuur' with you. You can even perform if you want, and in doing so may earn minutes of fame on the main TEDxDelft stage. Do you have an idea worth spreading on art or a memorable act? Please send us an email at info@tedxdelft.nl with your proposal.
Do you want to be inspired and attend our event? Sure, just click "attend/deelnemen" on our Facebook event TEDxDelft cultural TEDxSalon "Art, Chaos and Progress" or send us an email at info@TEDxDelft.nl. Entrance is free.
TEDxDelft Art, Chaos and Progress
20 September 2013 at 20.00 hours
Lijm & Cultuur
Rotterdamseweg 271
2628AT Delft
015-2629400
info@lijmencultuur.nl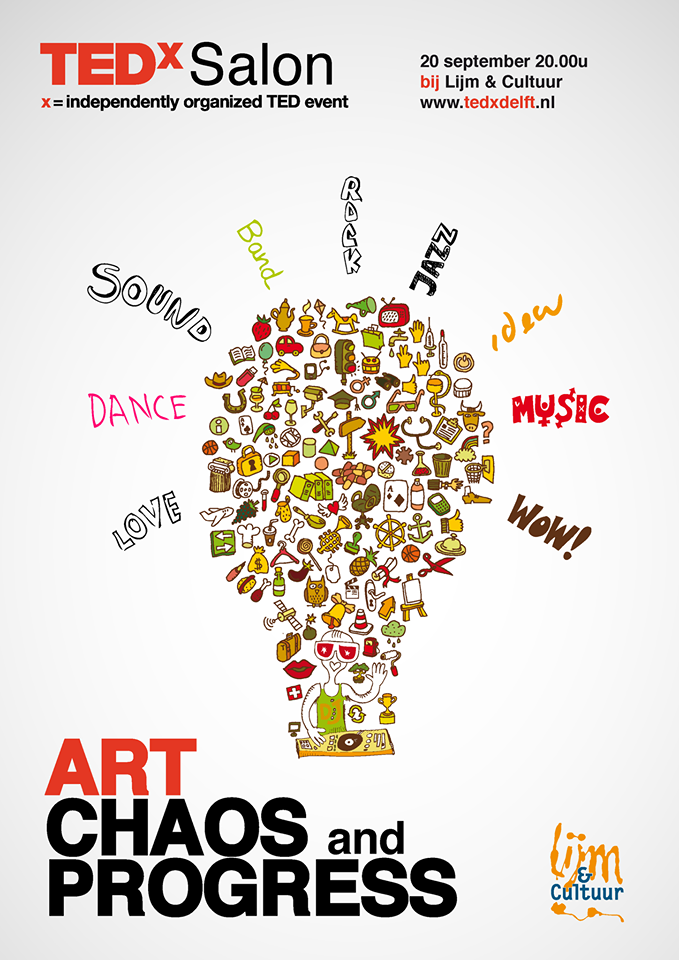 https://www.tedxdelft.nl/wp-content/uploads/2016/02/TEDxDelftLogoWebsite.jpg
0
0
Rob Speekenbrink
https://www.tedxdelft.nl/wp-content/uploads/2016/02/TEDxDelftLogoWebsite.jpg
Rob Speekenbrink
2013-08-29 08:59:19
2015-08-01 06:06:14
TEDxDelft Salon 2013 | Art, chaos and progress