The people behind TEDxDelft | Liesbeth Mantel | Committed to excellence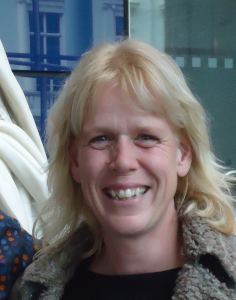 For Liesbeth Mantel, Project Manager of TEDxDelft, there is no doubt that this year's event will be better than ever. "We can expect an even bigger, more inspirational day than the last three years," Mantel says, "because the organization is growing as well, so we know what we need to do to make it even better than the last time." With a dedicated team and good partnerships, Mantel is convinced that everything is shaping up nicely for this year's TEDxDelf event.
Having helped organise the TEDxDelft event two years ago as a speaker liaison, Mantel is looking forward to seeing what challenges her new role will bring. More than anything, what matters most to her is the smooth operation of the event itself, when everyone knows their roles and people are fully committed to play their part so that the visitors will have a truly memorable day.
When she's not organizing TEDxDelft, Mantel works as Head of Open Spaces at the TU Delft library, where she is responsible for the public areas. "I like to redesign spaces and think about what people need when they come to a building,' she explains. Writing a blog in her spare time, where she recommends great places to visit, it's easy to understand that for Mantel, nothing is more rewarding than having organized a successful event where the visitors matter most. 'It's most rewarding is when it's a huge success, when, at the end of the day, when everyone goes home you can say, we did a good job."
What is your role at TEDxDelft?
I'm the project leader of the event. That means that I'm responsible for the whole day and everything that has to do with that. I'm not responsible for the speakers and the talks. I work with a wonderful team of people who all have their own expertise.
Why did you get involved with the organization?
Rob Speekenbrink and I are colleagues at TU Delft. During the TEDxDelft edition of 2012, I was the speaker liaison. In 2013, I was in the audience and I realised that I wanted to be part of the team again. I asked Rob if he had a position in the team for me.
How long have you been a part of the TEDxDelft Team?
This will be my second TEDxDelft event.
If you could choose one person to give a talk at TEDxDelft, who would it be and why?
That would be my friend Marina Noordegraaf. I'm sure she would make a lasting impression.
What's your nerdy little secret?
I love books and paper. I make cards and I collect angels.
https://www.tedxdelft.nl/wp-content/uploads/2016/02/TEDxDelftLogoWebsite.jpg
0
0
Pierre Mathieu
https://www.tedxdelft.nl/wp-content/uploads/2016/02/TEDxDelftLogoWebsite.jpg
Pierre Mathieu
2015-01-15 16:00:48
2015-01-16 11:13:56
The people behind TEDxDelft | Liesbeth Mantel | Committed to excellence