TEDxDelft 2016 | Karin de Groot | Teaching people it is ok to say "um"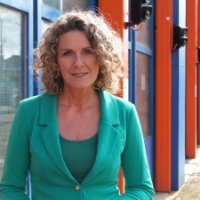 Everyone at some point in their life has likely given a presentation, more often than not with a few all too familiar pointers such as to smile, or to avoid saying "um". Karin de Groot, a presentation coach and radio presenter, says there is only one piece of advice people need: stop presenting and start talking.
Having grown up in Rijswijk, de Groot applied to the Academy for Journalism in Tilburg. After graduating from the Academy she joined a Dutch public broadcaster, where she would present, interview for, and edit a variety of radio and television programs. During her career of 27 years she gradually focused more on presenting and interviewing, and currently hosts a daily radio show. With this vast amount of experience de Groot began paying more attention to the way people presented and to the way people taught how to give presentations. "People giving presentations started to resemble each other more and more," she explains. De Groot did not think this to be a good thing, and so set about changing this.
De Groot set out to become a presentation coach as well, one that would take a different approach to teach people how to present. "One of the pointers coaches always give is to smile," she says. "Yet this only distracts if the person is not really invested in their presentation." Using strict rules when presenting takes away some of the spontaneity. "During a training once I told someone I had nothing really to remark regarding their presentation about their profession, just that I did not believe him," she says. He admitted that he wanted to quit his job, but had tried to hide this. By having the presenter focus on his personal affinity with his work's domain at large rather than about the work or the company itself, the presenter became far more invested in the topic and the presentation.
By providing people the tools to give a presentation or tell a story that feels natural to them they will feel empowered themselves to actually share it. "So many good ideas are lost to the world because people are afraid of spreading them," De Groot says. Which is why she is excited to be on stage at TEDxDelft and share her ideas on how to ignore most of the rules, and simply start talking instead of presenting. And all the while remaining true to herself.
Curious to hear how Karin de Groot will help you present by simply starting to talk? Then buy your tickets now, join us on Friday 15 April and come celebrate the universal genius.
https://www.tedxdelft.nl/wp-content/uploads/2016/02/TEDxDelftLogoWebsite.jpg
0
0
Pierre Mathieu
https://www.tedxdelft.nl/wp-content/uploads/2016/02/TEDxDelftLogoWebsite.jpg
Pierre Mathieu
2016-03-10 14:00:38
2016-03-09 21:21:15
TEDxDelft 2016 | Karin de Groot | Teaching people it is ok to say "um"