TEDxDelft 2016 | Niels 't Hooft | Literature is not dead, it just has to be reinvented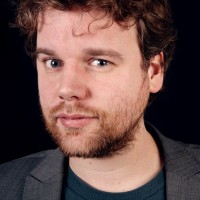 "The literary world can be slow to adapt to changes," writer Niels 't Hooft says. "It is one of the last industries which seems to resist technology." And with the sales of print on the rise, change seems even more unlikely. Which is a pity according to 't Hooft.
After finishing high school, 't Hooft decided not to study but to start working instead. He set out to build a website about video games. From this, it was only a relatively small step to becoming a journalist writing about video games. From journalistic writing came fiction writing. His first book was published in 2003 and he has since gone on to write two more novels, as well as several short stories. His affinity for technology, and games, in particular, remained. He found a way to combine his love of writing with that of games by helping with the development of several games through story development and direction, as well as helping build the worlds in which games took place.
"There is a lot of fear, uncertainty and doubt around literature in the current media and culture landscape," 't Hooft explains. The sales of print is increasing, but that of e-books is stagnating. The literary world appears hesitant to embrace the possibilities that new technologies such as smartphones could offer. "The last few months have really confirmed the industry's reticence," he says. For 't Hooft, this is a shame. Through his work on video games, he has gained an appreciation for the ways in which technology can be applied to tell a story.
"It could be a new way to present literature. A whole new experience for the reader," he says. But there are obstacles to consider as well. "You see a lot of people reading on their smartphones on public transport." It is a device people carry with them all the time, but it is also a device which constantly asks for attention through new messages, phone calls, and a host of other notifications. And finally, there is also the question of whether people really have the time to sit and read? 't Hooft sees many great opportunities, ways to make fiction truly interactive. "And who better to do it than the writers themselves?"
Are you interested to hear how Niels 't Hooft is convinced writers can bring literature definitively into the digital age? Then buy your tickets now, joins us on Friday 15 April and come celebrate the universal genius.
https://www.tedxdelft.nl/wp-content/uploads/2016/02/TEDxDelftLogoWebsite.jpg
0
0
Pierre Mathieu
https://www.tedxdelft.nl/wp-content/uploads/2016/02/TEDxDelftLogoWebsite.jpg
Pierre Mathieu
2016-03-21 14:00:09
2016-03-21 13:08:15
TEDxDelft 2016 | Niels 't Hooft | Literature is not dead, it just has to be reinvented