TEDxDelft 2016 | Rowland Manthorpe | Unravelling the force called confidence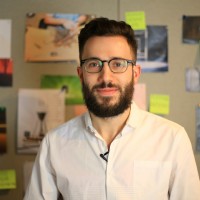 "I have always been interested in confidence, to me it seems to be some sort of secret ingredient." To Rowland Manthorpe, journalist, confidence is something which has fascinated him for many years now. Through personal experience he has created his own unique understanding of confidence.
Manthorpe studied at the University of Cambridge, where he obtained a Bachelor of Arts in History. He then went on to the London School of Economics, and finished with a Master of Science in Political Theory. Upon finishing his master's he became a freelance journalist, writing for a variety of newspapers. After several years of freelancing he became involved with a consultancy, as a writer and op-ed editor. In the years since, he has become an associate editor for a well-known tech magazine, founder of the Think Tank review, and has co-written a book together with his partner Kirstin Smith to be published later this year.
"Confidence is like a mysterious force that can do almost anything for you, make anything better," Manthorpe said. Confidence is a concept that has fascinated him since his time at university. During this time there was a period where he had lost his confidence, and it was because of this that he got thinking. "You notice things more when they are gone, and how crucial they can be," he said of this period in his life. For Manthorpe losing confidence was what opened his eyes to this, and made him think of this topic, and how it could be perceived.
A major influence for Manthorpe that shaped his views on confidence was well known philosopher Friedrich Nietzsche. "The more and more I read of Nietzsche, the more I started to realise what he was actually talking about was confidence," he explained. Nietzsche wrote about self-expression and creativity, about the forces you feel. "These beliefs are commonplace nowadays, but they were not during Nietzsche's time," Manthorpe said. Many self-help books also focus on this positivism, but ignore the darker elements of his theories. "Aiming at confidence as a goal is seriously flawed, we create a life which is not necessarily the one we want." Manthorpe, heavily influenced by this, came to his own conclusion, one which he is anxious to share.
Are you curious to hear Manthorpe's philosophy on confidence? Then buy your tickets now, join us on Friday 15 April and come celebrate the universal genius.
https://www.tedxdelft.nl/wp-content/uploads/2016/02/TEDxDelftLogoWebsite.jpg
0
0
Pierre Mathieu
https://www.tedxdelft.nl/wp-content/uploads/2016/02/TEDxDelftLogoWebsite.jpg
Pierre Mathieu
2016-03-28 14:00:34
2016-03-25 10:23:58
TEDxDelft 2016 | Rowland Manthorpe | Unravelling the force called confidence