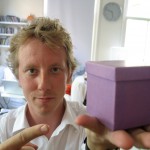 Jasper van Kuijk is a postdoctoral researcher at the Faculty of Industrial Design Engineering of TU Delft as well as a professional comedian ('cabaretier'). He studied Industrial Design Engineering in Delft, and then worked as a design management consultant, PhD candidate and comedian. In 2010 he won the jury- as well as the audience award at the Dutch Cameretten comedy festival, and two weeks later defended his PhD thesis on how consumer electronics companies deal with usability. During his PhD research he started uselog.com, a weblog on the usability of electronic consumer products.
He is an idealistic pragmatist, and is credited with bringing engaging ways of communicating to the field of science, and surprising insights and intelligent observations to the field of comedy.
As the host of TEDxDelft Jasper will be introducing you to the presenters, ensuring smooth – or at least fun to watch – transitions, keeping presenters to the schedule, and handing out microphones and sandwiches.
www.ide.tudelft.nl/studiolab/vankuijk | research page
www.uselog.com | the product usability weblog
www.jaspervankuijk.nl | cabaret
https://www.tedxdelft.nl/wp-content/uploads/2016/02/TEDxDelftLogoWebsite.jpg
0
0
Rob Speekenbrink
https://www.tedxdelft.nl/wp-content/uploads/2016/02/TEDxDelftLogoWebsite.jpg
Rob Speekenbrink
2011-09-02 10:05:44
2015-08-01 04:34:22
TEDx host: Jasper van Kuijk