TEDxDelft 2016 | Jasper van Kuijk | Do one thing every day that scares you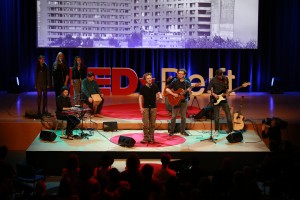 A researcher and designer by training, and a comedian and columnist by profession, Jasper van Kuijk's first appearance at TEDxDelft was five years ago, a mere three days following the premature arrival of his first child. He fondly recalled the moment as one inspired by large doses of caffeine and adrenaline.
Originally from The Hague, Van Kuijk studied Industrial Design Engineering at Delft University of Technology, returning as a PhD candidate and more recently Assistant Professor.  However, a theater and comedy course inspired Van Kuijk to join a comedy troupe and, when the group later disbanded, become a solo artist.
And as an educator, experienced performer, and public speaker, Van Kuijk felt certain that he should easily be able to drum up a suitable idea for TEDx Delft 2016 but was surprised to find he struggled. That was until he was reminded of a recent performance with his band. When asked to do the performance in English, Van Kuijk's response was: "We only performed that set four times, as an experiment with an audience of 400 people, in Dutch, that's a really crazy idea. OK, let's do that!"
Today's experimental musical performance – now translated into English and performed in front of an audience of 1100 people – embodied the sentiment of doing at least one scary thing on a daily basis. Van Kuijk's music connects experiences of growing up on the "wrong side of the tracks", discovering how your side of town has not changed despite your own evolution, and how "death makes a home in the little things".
In the spirit of celebrating the universal genius, some lyrics from one of the numbers performed to remember:
"We now have more knowledge
Than we can comprehend
But it seems we've forgotten
It's a means to an end
Love needs no reason."
https://www.tedxdelft.nl/wp-content/uploads/2016/02/TEDxDelftLogoWebsite.jpg
0
0
Pierre Mathieu
https://www.tedxdelft.nl/wp-content/uploads/2016/02/TEDxDelftLogoWebsite.jpg
Pierre Mathieu
2016-04-15 16:29:05
2016-04-15 16:34:21
TEDxDelft 2016 | Jasper van Kuijk | Do one thing every day that scares you