TEDxVilniuslive in Lithuania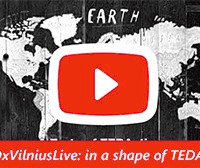 We have some exciting news for you! We're piloting a 4-day TEDxLive event with TEDxVilniusLive in Lithuania. They are hosting an action-packed 4-day simulcast of TEDGlobal 2013, accompanied by a range of exciting local activities; they are charging 520 Euros for this amazing experience. For now, this program is only a pilot, standard TEDxLive rules still apply to all current and future TEDxLive events. Here are the details:
The TEDxVilnius team invites you to TEDxVilniusLive, a 4-day TEDGlobal simulcast event happening in Vilnius, Lithuania on June 10 – 14. Modeled after TEDActive, TEDxVilniusLive is an event for members of the TED and TEDx communities, and local TED lovers around the world and in Eastern Europe.
Register now to attend the event: http://www.regonline.co.uk/Register/Checkin.aspx?EventID=1224630
When + Where
June 10 – 14 in Vilnius, Lithuania. Why Lithuania? Because TEDxVilnius organizers were one of the troublemakers responsible for convincing the TED team that this crazy idea is worth taking into action!
TEDxVilniusLive will take over the The Arts Printing House – a vibrant performing arts venue and a meeting place for artistic souls at the very heart of the city. Established in a former printing house dating back to 1585, the Arts Printing House is now a roof for the most renowned independent performing arts companies in Lithuania.
The Program
A week full of TED content, immersive workshops, discussions, amazing people and local culture.
TEDxVilniusLive will recreate the camp-like environment of TEDActive, and will include: a day of pre conference adventures, exploring Vilnius and its surroundings at its best; watching TEDGlobal 2013 with fellow passionate TEDsters; self-organized discussions and immersive workshops; and let's not forget social events and parties! All organized by a bunch of amazing TEDx organizers from all over the world.
TEDxVilniusLive is really whatever you want it to be to have a full blow-away TED-like experience!
Who?
YOU!
And 300 other TEDsters, TEDx'ers and TED lovers from Eastern Europe and around the world. It will be a historic gathering of intellectually hungry, passionate doers, and thinkers who just follow their guts and make things happen.
Attend
Register now and plan your trip to Vilnius: http://www.regonline.co.uk/Register/Checkin.aspx?EventID=1224630
The cost is 520 Euro for a 4-day pass to the event and all surrounding activities. Travel and accommodation are not included.
If you have additional questions, just email the TEDxVilniusLive team at info@tedxvilnius.com or check out info at the TEDxVilniusLive website.
See you in Vilnius!
https://www.tedxdelft.nl/wp-content/uploads/2016/02/TEDxDelftLogoWebsite.jpg
0
0
Rob Speekenbrink
https://www.tedxdelft.nl/wp-content/uploads/2016/02/TEDxDelftLogoWebsite.jpg
Rob Speekenbrink
2013-05-01 08:11:45
2015-08-01 06:00:57
TEDxVilniuslive in Lithuania